When I was four, the head reference librarian of the Chicago Public Library — who just happened to be my dear Uncle Herb — gave me a book featuring fascinating photos of the Maasai and Samburu people of Kenya.
"Look Carolyn!" he said. "Someday you'll go to Africa. And these people will be there to greet you."
I wanted to leave immediately, but gently he explained that Africa was a long way away and I was, after all, just four. "Dream of Africa, and one day you will meet these fascinating new friends."
I dreamed for over a half a century. And when the time came, it took two full days to get there. It was "a long way away."Out of Nairobi, flying low over the Great Rift Valley, we saw proof that this part of Africa is slowly breaking away from the rest of the continent, and one day will be a separate entity, even further from North America.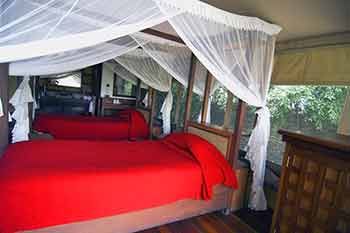 Smiling red-clad warriors, stepping from a page in that long-ago library book, greeted us, whisking us off to Samburu Intrepids. We lived in tents, comfortable tents complete with bathroom and four-poster beds with mosquito netting. (Warning: Keep tents zipped, as the monkeys will take anything not locked up and nailed down!)
Our days began way before dawn, with coffee and cookies delivered by one of the dedicated staff. Then we were off into the Samburu National Park to see the wildlife.
There, we became one with the animals, finding ourselves in the center of an elephant herd, hearing the alpha male's warning trumpet and looking at his flared ears, we discretely moved a bit down the road. After all, we were in his world now.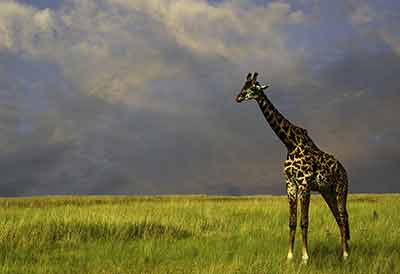 Tall, stately giraffes — "Twiga" in Swahili — posed dramatically for our lens, knowing well that by crossing their necks, we'd have award-winning photos by which to remember them.
Lions mated, then mated again a few feet from our Land Rover.
Tiny dikdiks, Thompson's gazelles, and baboons watched the Samburu people bring their herds to the river to drink at dawn, while lions crouched in the brush, waiting for a herdsman to become careless.
We were suddenly players in an elaborate Discovery Channel presentation. And yes, the animals were fantastic. I'll never tire of them. I want to see more.
But the greatest memories are of the gracious and delightful people we met.
Dominion Over the Cattle of the Earth
The economy of the Samburu — and Maasai people to the southwest — centers on cattle. Indeed, they believe that Enki (God) gave them dominion over the world's cattle and that a man's wealth increases as his herds grow. Men may have as many wives as they can afford.
The main diet consists of cow's blood mixed with milk. Everyone in the village — from the small children to the elders — drink this combination. Meat is eaten only for special ceremonies. (Vegetable consumption is hit and miss — mostly miss — depending on location and weather. Yet the average life span of these people is about 60, and it was that a century ago when ours was but 47.)
We visited a Samburu school. Only a very few of the children are able to get an education. Run by the Catholic Church, part of the curriculum is religion, and many of the teachings are in direct contrast to the Samburu's eons-old traditions.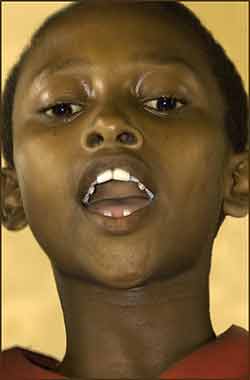 I found it disturbing that missionaries are doing their utmost to replace the gods of these people with their own beliefs. Can it be many generations more before all traditions are lost?
The children at the school proved to be just like kids anywhere: Grinning, posing, so proud of their accomplishments. We were surprised to find that the students wrote and read English very well. They sang and performed for us, and we were completely charmed.
At the nearby village, women build the houses out of cow dung and mud over a framework of sticks. Result: The huts are only as tall as the women. You must duck to enter. There are two rooms, one for the family, one for the young livestock at night.
I was amazed at the comfort and protection these primitive dwellings offer. And in case you are wondering, there is no smell, as the dung hardens until it is like concrete.
There is no way to describe in words the colorfully clad women who danced, sang, and welcomed us. We danced too. After all, we now were Samburu!
An elderly woman came to me, removed her beautifully made earrings, and handing them to me said, "Bibi." Yes, I'm a bibi, a grandmother, and I'm wearing them now as I relive these thoughts.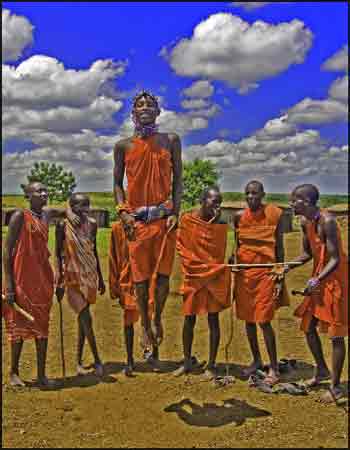 The warriors danced and jumped for us. Straight up in the air, three feet or more. Another ancient custom.
I now have several beautiful wedding necklaces and, between the Samburu and Maasai villages I visited, enough handmade bracelets to cover both arms.
Dinner the final night at Samburu was served under the stars. We were on the equator here, and each star seemed magnified. No wonder the ancient peoples saw animals and entities in the sky. I'll never look at the sky again without remembering Africa.
Nasipi is my name
The following day, we flew to the Maasai Mara. While Samburu is covered with scrub brush, the Mara is flat savannah.
In the evening, we were able to talk with the employees, who are either Maasai or Samburu, and learn even more of their traditions. They are truly people of the planet and their love for it runs deep.
A nearby Maasai village greeted us with dance and song while the warriors jumped to impossible heights. I have never met a friendlier more loving people.
And although I am now an honorary Maasai woman — my Maasai name is Nasipi, which means joy — I was told gently that I should practice my jumping if I really wanted to be a warrior.
We dined our final night under those same impossible skies, danced, sang, and jumped to the delight of our dear warrior friends. How sad it was to leave them.
After all these years, the dream had unfolded. When I told Kenyans that I had dreamed all this time of them, they were delighted and said, "Now dream so that you can come back to your Kenyan family." I'm doing just that as I relive these precious memories.
I dream of Africa.
---
See a slide show of a few of the 2,000 photos Carolyn and Frank shot HERE

See Frank's column about their Kenyan safari, plus all travel details at http://www.suddenlysenior.com/safari.html.

---
KENYAN SAFARI: THE NITTY-GRITTY
Getting There: Ah, here's the rub. From Tampa to Nairobi, it took us two full days. Tampa – New York's JFK (probably the closest to hell any of us will ever be in this mortal plain) – London's Heathrow – Nairobi. The trick? Plan your Nairobi flight so that you have time to taxi to one of the many hotels near Heathrow for 40 winks and a shower. It makes all the difference.
Costs: As with the flights' duration, their cost also is a bit hard to swallow. For the two of us on three airlines (Delta, Virgin, Kenya), about $3,000. The Kenyan safari itself isn't cheap, either. (Remember, this is the trip of a lifetime!) Kenyan safaris start at about $1,500 per person. You get pretty much what you pay for. (See Kent Redding's advice here.) We were very pleased with our stays with the Mara and Samburu Intrepids. At both these luxurious lodges, we enjoyed excellent food and service and, in spite of being in the middle of nowhere, we lacked for nothing.
Seven nights Heritage Intrepids Safari, featuring Samburu Intrepids, Great Rift Valley Lodge and Mara Intrepids, are priced from $2,325 - $3,410 per person (children at 50 percent), depending on season.
Parmasu, our safari guide in Samburu.
Speaking of children, if you want to do something very, very special for your grandkids, take them on safari! The Heritage people have youth programs galore, including a "bush school" with excursions to historical sites, practical conservation work, and cultural and sporting exchanges with the local Maasai and Samburu villages. Heritage's "Adventurers Club," for grandkids four to 12, study the bountiful butterflies, plant a tree, cast Big Cat tracks from the real thing, even teach how to build a fire from two sticks — something I was never able to do.
Price includes one-night bed and breakfast at Nairobi hotel (ours was a beautiful Holiday Inn), full-board while on safari, all game drives, airstrip transfers and domestic airfare and park entrance fees. Price excludes Visa ($50), beverages, laundry, and tips. All facilities offer laundry service. This cuts down on the amount of stuff you must bring.
For a good overview of East African safaris (Kenya, Tanzania and Uganda), check out Express Travel Group.

TIPS FOR TRAVELING TO AFRICA
Compiled for Suddenly Senior by Kent Redding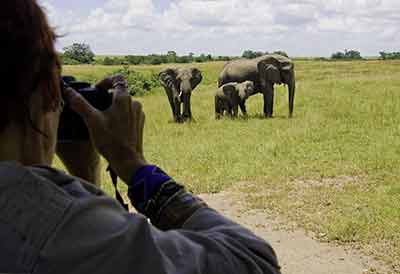 Like no other continent in the world, Africa offers breathtaking scenery, unparalleled wildlife, and rich cultures.
Carolyn shooting elephants.
For travelers with an adventurous spirit, there is no better place for your next vacation. Tanzania, Kenya, Botswana, Namibia, Uganda, Rwanda, Malawi, South Africa and Zambia are all fantastic safari destinations.
Things to consider before you book a trip include:
When to go: In most destinations, June to October is peak season, offering the best weather and game viewing, but also peak-season pricing. To make your dollar stretch further, consider traveling in low or shoulder season.
Where to go: For a typical two-week safari, consider limiting your visit to one or two countries so you can truly experience where you are. In East Africa, Kenya and Tanzania offer huge numbers of animals, rich culture, and that wild, "National Geographic" experience. Rwanda and Uganda offer great primates (gorillas, chimps and more). In southern Africa, South Africa and Botswana offer great "up-close-and-personal" experiences with wildlife, while Namibia boasts great deserts and wildlife. Zambia is famous for walking safaris and tours in "Africa as it used to be…"
Cost: Safaris are not inexpensive. For a good safari for nine days, land-only costs can range from $2,500-$15,000 per person. To compare quotations from different countries, divide the price by the total number of nights. Make certain they include the same number of days in parks, the same accommodations, internal flights and transfers, all the same meals, etc. Don't choose a safari company solely based on price — often a cheap price means lower quality. Competent guides, reliable vehicles, and personalized service are key, so go with a company that has excellent references.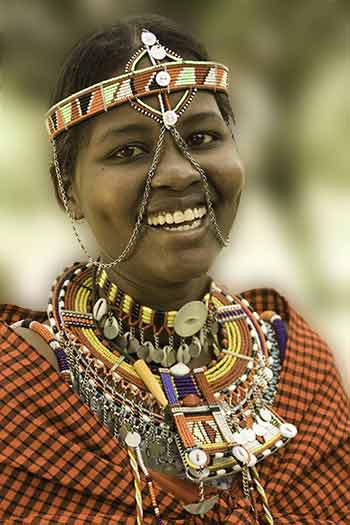 What to bring: In general, pack light with a limited number of quick drying, earth-tone clothes. In many areas, temperatures might be cooler than you expect. My standard bag includes two pair of shorts, two pair of pants, six shirts, a fleece, and a rain jacket. Other must-bring items include a sun hat, camera, and small flashlight. Most companies offer suggested packing lists.
Our Maasai friend, Nasipi.
Health: The Centers for Disease Control and Prevention offers suggested inoculations and health recommendations for all countries. Visit www.cdc.gov for more information before consulting with a travel clinic in your area. Otherwise, take all your own prescription medications with you, along with your bug spray and anti-malaria medications. Drink only bottled water.
Safety: Africans are generally friendly and hospitable people and visitors are made to feel very welcome. Like most places in the world, there are good and bad places, and some general rules to follow. In the wild, remember that you are a visitor in the "home" of the animals. Respect them. In cities and towns, stay with your guide or keep to public areas. Check the U.S. State Department's website, www.state.gov to keep abreast of changing political climates and travel warnings.
For mature travelers: Africa offers a wide range of accommodations and experiences. However, many roads are in poor condition and driving can be very bumpy and dusty. If you have pre-existing conditions like asthma or back problems, be sure to take your medications with you and choose a safari that goes at a pace that is comfortable for you.
Kent Redding is a former camp manager and safari guide in Africa and current owner of Africa Adventure Consultants, a boutique safari planning company in Denver, Colorado. He can be reached at 866-778-1089 or at kent@adventuresinafrica.com.
Copyright © 2007 - Frank Kaiser
---
See Frank and Carolyn's African Safari slide show here
---
Care to comment on this week's Suddenly Senior? Write to Frank at frank@suddenlysenior.com