W
hat has 73 different answers to each of thousands of questions and changes its mind weekly?
Oh, this is so easy.
It's the new Medicare Discount Card System. You take 40 national and 33 regional discount card companies, each with its own price for 209 different pharmaceuticals, each with its own annual fee, each with a different set of retail outlets, then ask us seniors to choose what's best for our particular needs.

Pesky Detail: Although you must stick with your choice for a year, the card company can drop brands and raise prices every week.

The government expects 14 million Medicare enrollees to sign up for the cards.

Are there that many fools over the age of 65 in this country?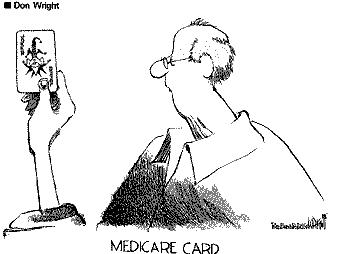 Starting June 1, these cards are supposed to give seniors discounts on prescriptions until the flawed Medicare Drug Benefit Bill takes effect Jan. 1, 2006. It's an election-year bone to pacify us with "drug savings up to 25 percent" as we eagerly await 2006 when we're promised that we can finally afford to buy the medicines we need.
Reality Check: Up to 25 percent can mean 1 percent or 4 percent or no percent. And that day in 2006 may never come. This current card trick is but a preview of the colossal flimflam ahead. (See http://www.suddenlysenior.com/medicarefactvs myth.html.)

Today I went to Medicare's Website in search of the "huge savings" promised by HHS Secretary Tommy Thompson. I found none.

That failure is more than made up by a bewildering abundance of choices.

I printed 32 pages of "Detailed Savings Information" where I can find discount card prices for my prescriptions within two miles of my home. This included 35 card companies with a choice of 352 local (some duplicates) and eight mail-order pharmacies.

Who knew there are that many Walgreen's in my neighborhood?

I had listed four popular drugs: Lipitor for cholesterol, Nexium for reflux, Norvasc to lower blood pressure and, for the depression this process might lead to, Zoloft.

"Discounted" monthly prices for those four ran from $315 to $397. Some give price ranges. The Sav-Rx Med-Advantage card, for example, will sell me my four drugs from any of 18 local pharmacies for "$358.25 - $722.52."

Maybe $722.52 is what they plan to charge next week.
Look North for True Savings
Carolyn and I buy most of our drugs in Canada. That's probably where you should go, too, at least for comparisons. My four drugs cost about 200 bucks up there. No annual charge. No confusion.
A US House Government Reform Committee study found a month's supply of the ten most popular brand-name drugs cost $1,046 using the Pharmacy Care Alliance Card but just $596 in Canada. The average Medicare discount card studied offered prices 72 percent higher than prices available in Canada.
Medicare is blowing $18 million to advertise this hoax, and another three for software that generates the elaborate online bait-and-switch.

Yet, if you can't now afford your prescriptions, by all means go to the www.medicare.gov site or call 1-800-Medicare to see if you qualify for state or drug companies' patient assistance programs. Although it's never mentioned, this software checks your income against their qualifications.

You may also be among the seven million seniors eligible for the program's $600 yearly drug subsidy if your annual income is less than $12,569 ($16,862 for married couples). Ask!

If you don't qualify for these low-income programs, you may well pass muster for drug cards issued by various pharmaceutical companies. Check http://www.suddenlysenior.com/drugcheapfree2004.html.

A caveat: Yesterday I received "A special offer for Frank Kaiser!" from Pfizer — "Special offer" from a pharmaceutical company is equivalent to "Greetings" in an Army draft notice — to send me a check for up to 20 bucks to enroll with any drug discount card. Of course, though they don't tell me, the minute I sign with a drug card they stop providing me with Lipitor for $15/mo. under Pfizer's Share Card.

Got to watch those guys like a hawk!

We seniors are at war for affordable medicine. In this Drug War our own government colludes with pushers to pick our pockets. And they will razzle-dazzle us every which way to keep us from the truth.

If you think this "Son of Scam" is corrupt, wait till 2006.

© 2004—Frank Kaiser

---
Want to comment on this week's Suddenly Senior column? Click here!
---
READ WHAT OTHER READERS SAY ABOUT RECENT SUDDENLY SENIOR COLUMNS AT http://www.suddenlysenior.com/pans.html
---
Send this column to like-minded friends.
Simply forward; or copy, then paste it into an e-mail.
---
A PRO LOOKS AT MEDICARE DISCOUNT CARDS! Retired pharmacist Tom Braun shares his professional ideas about the new Medicare Drug Discount Cards. Click here to learn more in controversial new column in this "Confessions of a Drug Pusher" series. http://www.suddenlysenior.com/braundrugcards.html
---
NEW THIS WEEK! Dozens of new entries at "Links to the 222 BEST SENIOR SITES" including new trivia, new jokes, new ways to gain employment — even new political sites recommended by readers to keep us all honest. At http://www.suddenlysenior.com/links.shtml and http://www.suddenlysenior.com/links2.shtml.
---
JOIN OTHER SUDDENLY SENIORS THIS WEEK! LESS THAN ONE-MONTH OLD, THE SUDDENLY SENIOR FORUM IS GOING GREAT GUNS! 773 ARTICLES BY 161 REGISTERED SUDDENLY SENIOR USERS.
EXPRESS YOUR OPINIONS. MEET FOLKS. HERE'S THE PLACE TO LET IT ALL HANG OUT. AT http://www.pillscanada.com/seniors/
---
See a list and summaries of all recent Suddenly Senior columns. Click http://www.suddenlysenior.com/columnlist.html
PLANNING TO TRAVEL? SEE NEW HINTS AND TIPS THAT CAN SAVE YOU BOTH MONEY AND TROUBLE AT SUDDENLY SENIOR'S TRAVEL PAGE
http://www.suddenlysenior.com/travelpage.html
- - - - - - - - - - - - - - - - - - - - - - - - - -

THE BEST OF SENIOR SEX
http://www.suddenlysenior.com/sexpage.html
- - - - - - - - - - - - - - - - - - - - - - - - - -
SEE THE BEST SENIOR NOSTALGIA ANYWHERE, http://www.suddenlysenior.com/nostalgiapage.html
- - - - - - - - - - - - - - - - - - - - - - - - - -
SEE THE BEST SENIOR TRIVIA ANYWHERE, http://www.suddenlysenior.com/triviapage.html

---
Want to get "Monday's Best Jokes" e-mailed every week? Send blank e-mail to get-jokes@suddenlysenior.com
To get the Suddenly Senior column, absolutely free, send blank e-mail to Get-ss@suddenlysenior.com
NEW! Get the latest Medicare and Canadian drug store news e-mailed almost every day, send blank e-mail to Get-rxnews@suddenlysenior.com
To unsubscribe to the Suddenly Senior column, send a blank e-mail to Remove-ss@suddenlysenior.com
To unsubscribe to "Monday's Best Jokes, send a blank e-mail to Remove-jokes@suddenlysenior.com
See past "Best Jokes of the Week." Millions of laughs!
---
Read last week's column
MY FIRST DATE: GIRL'S CHOICE
I was not smitten, just embarrassed. Naomi's glass eye glittered, eager for my attention. And as the girl already had well-developed breasts, I had nowhere to look except at our feet or the ceiling. http://www.suddenlysenior.com/firstdate.html