Our generation was privileged to grow up with the most influential, most promising invention since the wheel.

We watched its humble beginnings through snow, squiggles, and rolls on tiny monitors that took minutes to warm up, often hours more to "tune."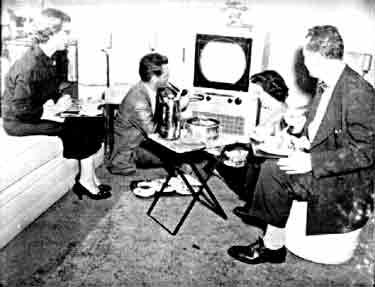 In those pre-clicker, pre-color days, Dad was in charge of the "rabbit ear" antenna, continually running up to the TV set, wiggling the "V" chrome tubes oh-so-slightly, then rushing back to his chair to see if his magic jiggle had improved reception.
This, like a later generation of men clicking through 250 channels, could last all evening.
We saw fabulous live shows, experimental productions that today wouldn't be attempted even on tape. And there were babes — Dagmar comes to mind — great comedy, dancing poodles, charming puppets, and wrestling.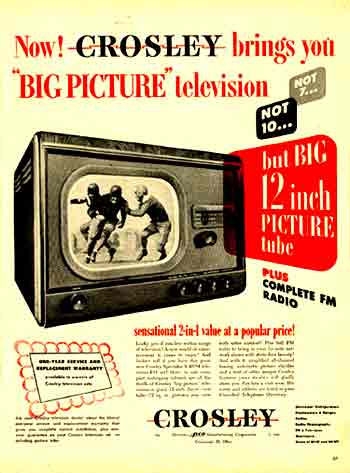 Oh, how we loved wrestling.

Remember Gorgeous George? (I once saw his girlfriend win first prize on Amateur Night at Los Angeles' premier strip club, The Body Shop. But that's another story.)

By 1960, TV was ubiquitous as the air itself. Even if you couldn't afford a set, you almost certainly had an antenna on your roof. It was darn near un-American not to own a TV.

Our generation watched it all; from that stern Indian head silently announcing no programming, to all the TV dinners, tables, and "togetherness" that TV spawned.

As kids do, we embraced it as if it had been around forever.
But in the beginning, sports teams banned the medium, fearing that fans would rather watch games from home than at the stadium. Moviemakers, dreading mass desertions to free TV shows, showered us with wide-screen formats, surround-sound, 3-D, and the ill-fated "Smell-O-Vision."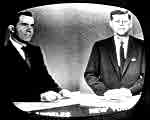 Politicians like Ike and JFK welcomed TV, knowing its power to shape votes. And while some folks, like my first boss and 99 percent advertising genius — Leo Burnett — thought it just a passing fancy, never to amount to much, there was no turning back.
Suddenly Trivia: During the 1950s, and '60s, advertising on TV taught our generation and early Boomers how to smoke. What brand used leggy dancing cigarette packs in their ads? a) Lucky Strike, b) Old Gold, c) Raleigh, d) Kent.
In 1961, as the medium settled into its awkward teens, FCC Chairman Newton Minow condemned TV as a "vast wasteland."
Remember?
Fifty years ago, in a speech before the National Association of Broadcasters, Minow challenged his audience — that era's highest-powered TV executives — to spend an entire day in front of a TV set.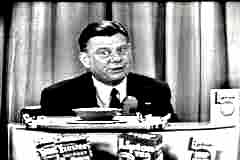 "What you'll see," he charged, "is a procession of game shows, formula comedies with totally unbelievable families, blood and thunder, mayhem and violence…" After his attack on programming, he assailed the folks who paid for it. "You'll see endless commercials, many screaming, cajoling and offending. Most of all, there's boredom."
Strong stuff. But those were the days of few choices. Not like today's smorgasbord of hundreds of programs running at any given moment.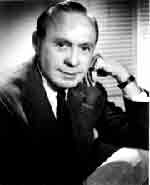 Then, we had three, maybe four from which to choose. The top-rated programs of the era were:
Gunsmoke
Wagon Train
Have Gun, Will Travel
Andy Griffith
The Real McCoys
Rawhide
Candid Camera
The Untouchables
The Price is Right
Jack Benny.
(Brings back memories, doesn't it?
Many of us agreed with Minow. But most held out hope that all would change for the better once there was a wider choice of programming,
Well, you decide.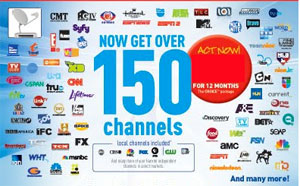 Now, with cable and satellite dishes — even phone TV, for crying out loud — we can choose from hundreds of channels.
Our choice? Here are current Nielson Rankings, 50 years later:
Our choices? Here are 2011 Nielson Rankings, 50 years later:

1 AMERICA'S GOT TALENT-Tuesday
2 THE BACHELORETTE
3 NCIS
4 BACHELORETTE:AFTER ROSE(S)
5 60 MINUTES
5 AMERICA'S GOT TALENT-Wednesday
7 NCIS: LOS ANGELES
8 BIG BROTHER 13-Sunday
8 BIG BROTHER 13-Thursday
10 THE BIG BANG THEORY

(Source: Nielsen, August 1, 2011)
Do we see 50 years worth of improvement here?

Let me know what you think. E-mail frank@suddenlysenior.com.

I look forward to hearing your verdict.
---
Think back 5 years ago. Here were the 2006 top 10. And we thought those choices were bad?
Grey's Anatomy
Desperate Housewives
CSI
Dancing with the Stars
CSI: Miami
Without a Trace
CSI: New York
Brothers & Sisters
Criminal Minds
Dancing W/Stars Results
(Source: Nielsen, Sept. 18, 2006)
---
Suddenly Trivia Answer: b) Old Gold. Later commercials included a child in the dancing line, promoting kids' smoking.
Copyright © 2001-2011 — Frank Kaiser
---
NEW AT SUDDENLY SENIOR THIS WEEK!
TRAVEL COLUMNS YOU MAY HAVE MISSED
See the Canadian Rockies on "The Most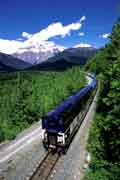 Spectacular Train Trip in the World"
For me, this is the most glorious place on earth. The Rocky Mountaineer lets you travel the Canadian Rockies with the style and cuisine of a fine hotel. It's a moveable feast for the eyes, the heart, and the tummy.


A view of fall, life, and death from Nova Scotia in autumn. Is being a geezer a prelude to death or the most spectacular time of life?
From the primeval rainforests and volcanoes (see phot
o) to the ever-smiling, waving and helpful Ticos, Frank and Carolyn explore this Central American democracy and find it fascinating from Atlantic to Pacific. Inexpensive, too.
And the answer is "Yes, You Can Afford to Retire in Costa Rica!"
Don't forget! Suddenly Senior's Travel Page has every link a geezer needs for the trip of a lifetime!
---
THIS WEEK'S SUDDENLY SENIOR "CARTOON OF THE WEEK"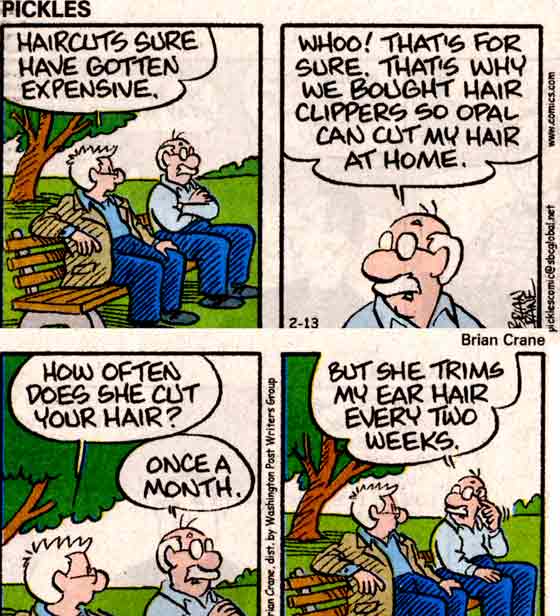 ---
HAVE A GREAT WEEKEND, EVERYONE!