From Travel Libido
THE NATIONAL WINE
CENTRE OF AUSTRALIA
By Barbara Bowers
Very few things on Earth can distract from my love of travel, but good wine is a good reason to cheat. And cheat I must do—occasionally—just to keep up with the newest generation of whipper-snappers who, I swear, have been weaned on Chardonnay. In my day, Mad Dog 20/20 was as exotic as Shiraz or Semillon.

"Shiraz or Semillon?" you ask.

If they sound like Greek to you, catching up with today's kiddy connoisseurs demands a day at the National Wine Centre of Australia. A week is better, but even an hour can get you past the curious, left-eyebrow lift of any restaurant's sommelier. Even better, this tourist attraction weds wine and travel, a marriage made in Adelaide, South Australia for here, the Wine Centre is a crash course in winemaking, wine tasting and just about everything that comes up grapes.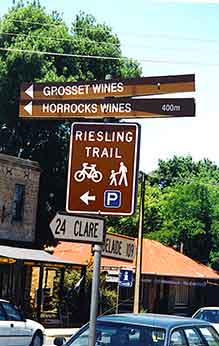 Now, don't let the high-tech, slick look of the youthful center intimidate you. Education is the focus and it's user-friendly. Consider the interactive touch screen that helps you create your own wine. By selecting from the computer prompts, the senior traveler can pick a leading grape variety then by blending soil, weather and winemaking techniques you may win a wine medal: gold, silver or bronze.
The 17 mile, bike-or-hike Riesling Trail connects 30 premium winemakers for an unparalleled wine tasting experience in South Australia's Clare Valley.
Or, maybe not: I developed an "absolute failure." It seems knowing what I like and knowing how to make it is the difference between art and science.

Throughout the Wine Centre, the blend of art and science is impressive. Before I even get to make a wine, I sense the magnitude of grapes. For instance, a 130-year old Shiraz grape vine, complete with sprawling roots, dominates one wall of the "wine discovery" hall. Interior ceilings are decorated with woven grape vines. A giant video walks visitors through a vineyard, and 3D maps outline Australia's wine growing regions, or act as guides to the 32 most commonly grown grape varieties.

Low-tech though I am, in this hallowed hall of grapes I feel like a kid with energized bunnies. One interactive display focuses on the art of barrel making, another on diseases and pests. Holograms of some of Australia's leading winemakers talk about grape picking or how the seasonal changes from year to year affect each harvest. The talking heads even include chefs and wine critics.

In one room, the history of Australian wine making since 1788 is followed by, well, the sniff test. Here, I smell the fine aromas of some wines by placing my nose to a sterile metallic portal. Then I push a button that lets loose a bouquet of fresh air with hints of chocolate or perhaps roses, depending on the grape. There are even puffs of air that smell like a tainted cork or the acidity that accompanies a spoiled wine.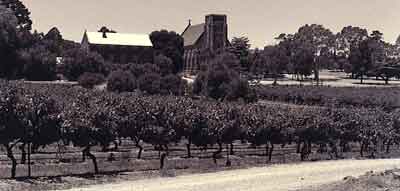 In the Clare Valley,130-year-old Shiraz grapevines line the grounds surrounding the only Jesuit owned-and-operated vineyard in the world.
More fascinating is the blind taste test. After the Wine Centre's sommelier sets four glasses atop paper coasters, I'm encouraged to swirl, sniff, sip and if I must, use the aroma pads to help identify whether I'm drinking Merlot or Shiraz, Chardonnay or Riesling. I may publicly declare each wine's grape; the sommelier will verify which is which. Or I can turn the coaster over to confirm what I'm drinking, even if not what I'm thinking. This is painless learning by doing.

With so much to drink and so little capacity for drinking and driving in South Australia (a rigorously enforced legal blood alcohol limit is 0.05 mg/l), visitors may walk-off any buzz-on in the Centre's wine store, in its own outdoor vineyard or in the neighboring Botanic Garden's of Adelaide, which also may be viewed from the Wine Centre's al fresco dining room.

The National Wine Centre of Australia is an attraction whose time has come. It complements the wine-and-dine-out consciousness of Adelaide, a foody city with more than 700 "slow food" establishments. It supports the importance of the winemaking industry by offering private wine tasting and catered dinners for small or large groups. It offers the senior traveler in-depth education with six-week courses, such as "Understanding Wine," that also may be condensed into a weekend of 14 hours' lessons for those who have less time to explore Adelaide and the nearby wine valleys, where 70 percent of Australia's wine is produced.
And whether you're a seasoned wine enthusiast, or a complete novice, you may discover that, though worlds apart, Greece and Australia have some things in common. National Wine Centre of Australia is at the corner of Botanic & Hackney Roads in Adelaide, South Australia: telephone 618 8303 3355 or www.wineaustralia.com.au.
Copyright © 2006, Barbara Bowers

Sunset from Thorn Park Country House www.thornpark.com.au in Clare Valley's wine country guarantees guests gourmet dinners with fabulous local wines form its extensive celler.
Barbara Bowers is a freelance writer and photojournalist. See Barbara's site at http://www.bbowers.com
By MICHAEL SHAPIRO

Published October 30, 2005
St. Petersburg Times
Over the past decade, online travel booking has gone from novelty to necessity, at least for those who want to see lots of options and save some money. And as the author of two books about using the Internet for travel planning, I'm often asked which site is best.

The answer: None.

That is, orbitz.com may turn up the best price on one route, expedia.com on another, and sometimes going to an airline's site is the way to go.

Nor is it all about price: Though you can find a nonstop for $10 more than a one-stop flight, wouldn't you rather pay a bit more to fly directly to your destination?

By making prices transparent and giving travelers the tools to compare, the Net has brought down costs. But that doesn't mean deciding where to book has become easy.

So much has changed since the reservations company named Sabre took online travel booking mainstream when it launched travelocity.com in the 1990s. But one truism has remained constant: You better shop around.

You really don't want to spend three hours online to save $15. But for most people, spending 30 to 60 minutes to save some money, and even read the comments of recent travelers to your destination, is worthwhile.

The key is to have a solid strategy. Many of the sites mentioned here will help you find the bargains. And even the questions posed should help you find the best path, online.

Where's the best place to start?

For flights and rental cars, start your search at orbitz.com. I like Orbitz's matrix, a grid of flight prices sorted by airline and number of stops.

One thing I don't like, though, is that you can't see the fee Orbitz adds to your booking, because the company has chosen to lump that in with federal taxes. Orbitz's fees range from $4.99 to $17.99, but are typically $7 for roundtrip domestic flights.

Next, I check expedia.com and travelocity.com, which charge similar fees for airline tickets, but have less-extensive grids.

As does Orbitz, these sites offer air-hotel packages that may save you money. Expedia also offers lots of information on hotels and often gets low rates from the chains.

What other booking sites should I check?

After checking the Big Three, try sidestep.com, which lists many smaller airlines and discounters.

SideStep searches lots of booking sites, including airline and hotel sites, and sometimes it finds the best deals.

SideStep's new "SmartSort" makes it easy to select flights by price, time, number of stops and airport. Over the past year, these so-called metasearch sites have become popular, so you should bookmark kayak.com, farechase.com, and mobissimo.com, which is a specialist in European flights.

One caution about Kayak: You can enter a specific airport, such as New York's JFK, but Kayak will turn up results from all four airports in the New York area, including inconvenient Westchester County. To avoid this, use the buttons in the left column to de-select airports you don't want to use.

The slider bars on these sites can help you narrow your acceptable price range, flight times and number of stops.

SideStep also gives results for nearby airports and it highlights these in red, so they are easy to identify.

A big plus: FareChase and some other metasearch sites list airlines such as JetBlue that you won't find on Travelocity and Expedia. This is because the airline has chosen to not provide the major search engines with the relevant information.

Should I check airlines' and hotels' own sites?

Absolutely. After using the major booking sites to narrow your choices, do check aa.com or hilton.com, for instance. Airline and hotel sites often offer perks, such as bonus frequent flier miles or a free upgrade to a larger room, for travelers who book on their own sites. Most major U.S. hotel chains now guarantee their best rates will be found on their own sites.

Booking directly at these sites, rather than through a middleman such as Expedia, can often save you middleman fees. But at times, the sheer size of a site such as Travelocity may enable it to negotiate a better rate, so remember the magic phrase: shop around.

Also, some discount airlines - Southwest led the way - don't want to sell their flights through the Big Three. That means the only major online outlet for Southwest tickets is southwest.com.

Do some sites specialize in hotels?

Yes, these range from the behemoth hotels.com, which often charges more than rates listed on the hotels' own sites, to quikbook.com, which is useful for upscale properties but offers just major U.S. cities.

Other sites are handy for regions, such as venere.com for Italy and a few other EU countries, or www.hotelres.com for rooms just in San Francisco.

For vacation-home rentals, see rentvillas.com, vrbo.com or choice1.com.

You can find some of these travel sites - and perhaps a thousand others - at johnnyjet.com. Or use Google or Yahoo to look up hotel sites by your destination.

Are Hotwire and Priceline worth using?

Priceline.com and hotwire.com are like outlet stores for online travel shoppers: They sell flights, rental cars and hotel rooms at a discount, but there's always a tradeoff.

With flights, you must agree to fly on any major airline at any time (except overnight) on the date you choose. With hotels, you pick the neighborhood (such as Midtown East in New York) and the star ranking (three stars, for example).

Neither site allows you to change your reservation, and usually no refunds are granted. Make sure your plans are firm before booking at these sites.

Unless you don't mind flying any time during the day, you'll probably find these sites more valuable for booking hotels, vacation packages and rental cars than for booking flights. Priceline and Hotwire have lots of rooms at relatively low prices, and rental cars in major cities for as little as $20 per day, plus fees.

How do I know what to bid at Priceline?

When you bid on a hotel, Priceline offers bidding guidance - but be aware that Priceline typically suggests you bid more than is necessary.

This is because Priceline retains the difference between a customer's bid and what the hotel is willing to charge, so it is in Priceline's interest to get you to bid too high.

Two sites - biddingfortravel.com and betterbidding.com - offer city-by-city advice on what to bid. These sites offer general advice and have postings from thousands of Priceline users about what bids were accepted and rejected, as well as what hotels the bidders actually got.

A recent BiddingForTravel post showed a successful bid of $69 a night at Chicago's four-star Sheraton Tower. That doesn't guarantee you would get the same deal, because prices vary with occupancy levels. But it does give you an idea of what bid might get you into that property.

Some ultra-low rates like this are only offered for multiple-night stays.

Are guidebook sites worth using or should I buy the book?

Yes and yes: Use sites such as fodors.com but also buy the books. Guidebook sites such as lonelyplanet.com and ricksteves.com add value to their books by offering updates and breaking news from the destinations they cover.

For instance, Steves writes a monthly report about Europe, and his "Graffiti Wall" has tips on 100 topics ranging from best walking shoes to flying within Europe. But do buy the book: An investment of about $20 can add much to your trip.

Other sites worth checking for the latest cultural events are timeout.com and citysearch.com.

Where can I find reviews of hotels, restaurants and attractions?

Tripadvisor.com, the most thorough review site, combines excerpts from guidebooks with comments from recent travelers. It ranks the top hotels and B&Bs and offers reviews of various attractions. You can look for hotel reviews by price, neighborhood or star ranking.

TripAdvisor also lists the top 10 attractions and restaurants in each city, and you can click to see reviews beyond the top 10. Rounding out the offerings on this site are recent articles from newspaper and magazines, sorted by destination. You can book hotels on the site, too.

Once you return from your trip, you can post your own review at TripAdvisor.

Other sites where you can read reviews are hotelshark.com for hotels, fodors.com for hotels and restaurants, and cruisemates.com for cruises: click on reader reviews.

Expedia and Travelocity also post consumers' hotel reviews, as do hotelmotelreviews.com and hotelscoop.com.

Some of these sites are now posting consumers' pictures of hotels, to back up their comments.

Where can I find trip reports from other travelers?

Online trip journals and photos are superb for learning about destinations. Among the best sites for reading these journals are bootsnall.com, virtualtourist.com, and igougo.com.

An excellent forum for adventurous travelers is Lonely Planet's Thorn Tree, thorntree.lonelyplanet.com, which has dozen of discussions, both by destination and theme (On Your Bike, Responsible Travel). I also enjoy reading travel literature at worldhum.com.

How can I log on while traveling?

Many travelers have moved beyond hunting for Net cafes or trying to dial up by phone. Instead they use Wi-Fi (wireless fidelity) to log on without being plugged in.

Most laptops newer than 2 years old include a Wi-Fi card that hunts for the wireless signal. The concept is similar to a cordless phone: Just as phones no longer need to be plugged into the wall, computers can access a wireless signal to connect.

These signals are provided at locations ranging from airports to hotels to Starbucks. At some places you have to pay to use this service; other places, including some campgrounds, libraries, airport lounges and hotels, offer Wi-Fi for free.

To learn more about Wi-Fi or to find free access points, see jiwire.com and wififreespot.com, which list access points by state.

Should I ever use a travel agent?

Of course. If you're planning an African safari adventure or a trip to Bhutan, an agent can make all the difference. Most agents now charge fees for their expertise, which is fair because they can't usually survive on commissions paid by travel vendors such as airlines or cruise lines. These commissions have been cut substantially in recent years.

A basic rule here might be: The more complex and/or expensive your travel, with multiple connections or destinations, the more you should turn to a travel agent.

But if you're just booking a routine trip, save the agent's fee and do it yourself.

Michael Shapiro is the author of Internet Travel Planner Globe Pequot.

© Copyright 2003 St. Petersburg Times. All rights reserved