Such whooping and hollering was all part of our family's holiday tradition back in the 1930s and '40s.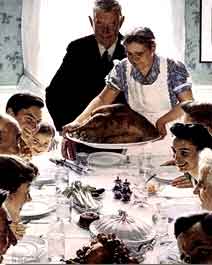 Every Thanksgiving during this time of scarcity, even hunger, my parents and aunts, uncles and cousins would mock reality with a meal so full and delicious -some might call it intemperate - it brightened our spirits as it burdened our stomachs.

Late Thanksgiving morn we'd all gather with covered dishes at my Aunt Marion's and Uncle Herb's home in Edison Park, Ill., men in the living room with stale jokes, poker and cigars, women in the kitchen where for five hours they would gossip and laugh and busy themselves doing the work of the gods of exuberance.

Once the table was burdened with the huge turkey and every imaginable side dish, we would begin chanting, "We want gravy! We want gravy!" With 20 to 25 hungry voices joined in joyous noise, dogs would scamper and hide; heck, one Thanksgiving Marion's caged canary croaked, apparently frightened to death.

Then, to whistles and applause, Marion brought in the huge gravy boat signaling the time for each of us to celebrate food and family and our love of both.

They're all dead now, but me.

I haven't heard "We want gravy" for 60 years. Perhaps more than any other childhood memory, I miss that warm sense of community and love and sharing Thanksgiving Day always brought.

Yet as I write this, 37-million Americans are heading home for Thanksgiving and whatever quirky family traditions they will keep alive for another year. That so many of us still make such an effort to celebrate family and community gives me hope that the America I cherish is still alive and kicking.

It is just one of many reasons I have to be thankful this Thanksgiving.

Like so many of us geezers, Carolyn and I will be "eating out" this Thanksgiving. Alone together among strangers. But that certainly doesn't mean that there isn't plenty of gravy in our lives.

We have our health, first and foremost. And our faith, without which life would be meaningless. And great love in our lives.

We have friends, old and new, around the world, all who join us in spirit at our table for two.

We live in a nation of infinite possibility and enormous beauty. How can we not be grateful for the good fortune to be born here to enjoy freedoms preserved and unequaled diversity and tolerance.

We enjoy prosperity. I cannot tell you how thankful I am each month for that $640 Social Security check. And for Medicare, without which I too would be dead.

Most especially, I'm thankful for you, dear reader. Today, you are my community, my family, providing me with a full and rich life.

You write me, sometimes 200 letters and e-mails a day, for which I'm so grateful, even when your messages question even condemn my ideas. To those few remaining hard-core Republicans among you, I ask: Please stick around. I need you to keep me honest and constantly questioning.

Suddenly Senior has introduced me to some of the most remarkable folks in and around the world. Thank you all for joining me in this journey we call aging.

Happy Thanksgiving, everyone! Now pass the gravy!

Copyright © 2004 — Frank Kaiser
---
WANT TO GET SUDDENLY SENIOR WITHOUT FAIL IN YOUR E-MAIL? ABSOLUTELY FREE! CLICK HERE TO WRITE WITH YOUR REQUEST. BE SURE TO INCLUDE YOUR NAME, E-MAIL ADDRESS, AND A LITTLE ABOUT YOURSELF.
---
Send this column to a friend. Simply copy, then paste it into an e-mail.
---
Want to comment on this week's Suddenly Senior column? I'd like to hear your senior moment experiences. Click here!
---
Didn't do too well on last week's quiz? Read this...