Story & Photos by Bonnie Burns,
Swiss Resident, American Ex-Pat

They say traveling to Norway is expensive, but don't believe it.
There's no need to ignore the distant call of train travel through snow covered mountains or sailing the glacial Norwegian fjords if you have a few tips, the most important being time of year. Early November 2004 was when I went, expecting eyelash-freezing gales. Instead, it was 52 degrees when I landed in Oslo.

Saving Tip Number 1: For our intra-European flights, we booked directly with the airline serving the area, SAS, which was considerably cheaper than the big travel websites. If you are traveling from the USA, you might get an even better deal when combining your trans-Atlantic flight.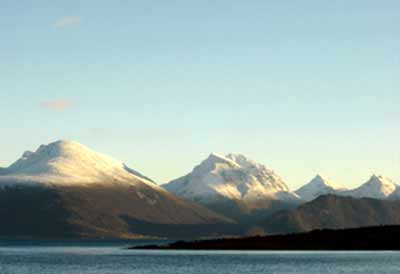 A can't miss experience in Norway is the train from Oslo to Bergen, which is hailed as 'the world's most beautiful train trip.' Given the price of $117.00 for a seven-hour trip, I thought is should be called 'the world's most expensive train trip.' That was until I navigated their website.

Saving Tip Number 2: The Norway train website is also in English, although not straightforward. Nonetheless, I discovered how to save $82 per ticket by clicking on 'NSB Komfort (Minipris).' This special rate is not available everyday, but it was available on the day we were traveling. Just remember when booking, dates in Europe are presented as day first, then month. '11.12' is December 11. Also, the prices given are in Norwegian Kroner (NOK), which you can easily convert to your own monetary currency with the website mentioned at the end of this article. Take a copy of your internet booking to show the conductor on board, as this is your ticket.

Norwegians are utterly charming and naturally helpful people. As we glided out of the Oslo main train station, the conductor announced the dining car would open in fifteen minutes. The reason for this, he explained was, 'because we have a lot of things to do.' He further informed us, 'Then we'll be along shortly to take a look at your tickets.' True to his word, fifteen minutes later, he came over the speaker to announce, 'Hello, the bistro is now open and we wish you all a welcome to our nice hostess, Laso.'

Sitting komfortably in my komfort klass seat, sipping komplimentary coffee, I noticed a glass case on the wall and did a double take. Securing the glass case, which contained an ax, a saw and a wooden mallet, was a twist tie. Unguarded tools of such a nature would be worthy of alarm in some countries, but Norway has virtually no violent crime. How refreshing to think of these as backup tools instead of potential weapons. It was then we discovered a different kind of security concern, one we had not known about.

A Norwegian train traveler sitting across the aisle told us about creatures we should avoid during our stay in Norway. The worst, he said, are the trolls, which are huge, ugly and have three heads. With those hints, we should be able to spot them, we laughed. Legend has it that trolls are easy to outsmart. A little Norwegian boy, all alone in a forest cutting wood, ran into a horrifying giant troll. The troll agreed if the boy could squeeze liquid from a rock, he would spare his life, so the boy reached into his lunch sack, took out a wheel of soft cheese and squeezed until it seeped. On that particular happy occasion, the boy lived to tell his story.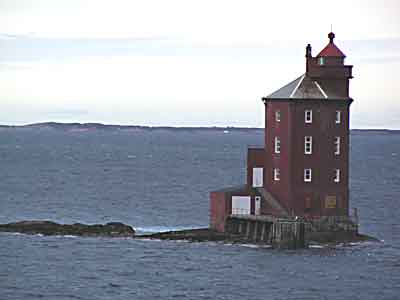 Trolls seem to have a particular fondness for princesses, so we should be safe. What usually happens when a troll abducts a princess is three brothers go to her rescue. Two of them are always handsome and make their parents proud. The third brother has always been a bit of a delinquent. In all reported cases, the delinquent brother always manages to save the princess and we can guess the rest of the story.
Taking advantage of our helpful Norwegian seatmate, we quizzed him about other creatures we could expect to see. Penguins? No. Apparently, penguins only live south of the equator. Who knew that? Moving on to our question about the best place to see puffins, he said he once saw a puffin in Iceland. Well then, reindeer? Sorry, but no. How about polar bears? He says there is a stuffed one in Bergen. Whales? Well….possibly.

Even without polar bears crossing the train tracks, the train trip is magical and our faces remained pressed to the windows the entire time, except when Kathe took a thousand pictures. We said the whole trip: 'Did you see that out the left/right side?' To the exact minute, we arrived in Bergen. I think you can count on a precise arrival anytime you go, since the conductor announced, 'We arrive in Bergen…just on time….as usual.'

Saving Tip Number 3: The train arrives in Bergen at 5:50 PM. The Hertigruten Coastal Express leaves Bergen at 10:30 PM (always confirm your departure). I emailed ahead to see if we could stow our luggage on board for the 4 _ hours in-between. No problem, they said. This was the first of many professional kindnesses we were to experience on the Hurtigruten Coastal Express. So, rather than book a hotel, go directly to the ship, check in and leave your luggage. This leaves plenty of time to explore Bergen and saves the cost of a hotel.

Prior to the trip, I explained to my travel mates not to expect a cruise like from America. On this ship line, amenities are sparse. No on board live entertainment. No cinema or limbo contests. Think of it as transportation, I said. Yvonne replied jokingly that she had taken a cruise on Norwegian Cruise Line and why should this be any different? After all, this is a cruise in Norway.

Saving Tip Number 4: Reserve directly with the ship line. When their website was not completely understandable, I emailed for clarification and they always emailed back the same day. By going direct, I saved hundreds of dollars compared to the internet cruise lines offering to book for us. In addition, because it was the low season, we saved hundreds more. In the end, our single-occupancy cabins cost just over $100 a day.

Saving Tip Number 5: We accomplished additional savings by not pre-ordering meals. Three meals a day will set you back over $100 a day per person. A couple from Canada we spent some enjoyable time with did not know they could have declined meals. But it is possible due to the daily shore leave and the 24-hour cafeteria. Instead of eating the on board no-choice menu at pre-set times, our mid-day meals were consumed in interesting local restaurants. Returning to the ship, we stopped at a grocery store to pick up a few things for a light evening meal: bread, cheese, salami, fruit, olives and other tasty morsels.

Saving Tip Number 6: In a word - BYOB. We each brought a bottle of champagne for celebratory occasions like the ship's departure and crossing the Artic Circle. The on board price for a bottle of Veuve Cliqcuot is around $85.00, which is nearly three times the price in duty-free. Drinks at the bar are staggeringly expensive. You can take two liters of alcohol into Norway and may want to set up your own little bar. We did and made friends.

At the Bergen harbor, the Kong Harold ship was being supplied for our departure. Little forklifts frantically zipped all around us. More than a means of transportation, this ship line has been sailing the Norwegian coast for over a hundred years, delivering goods to the inhabitants living in remote areas.

Having been on a cruise myself once, I was prepared to burst out laughing at the compact size of my cabin. Instead, I found myself gasping at the roominess. The comfortable berth and duvet folded into the wall. Opposite was a sofa. With the berth tucked away, there was enough room to do aerobics, not that I was so inclined. The shower was another matter, however. When I dropped the soap, it was impossible to bend down to retrieve it. I know this because it happened twice.

After inspecting our cabins, we roamed the ship exploring the dining room, cafeteria, lounges, and decks; all the while running our hands over exquisite wood bearing glossy, high quality workmanship. 'Isn't it good….Norwegian wood….' kept running through my mind and despite knowing all the words to the Beatles song years ago, I could think of no others, so I spent the whole trip humming just that little bit.

At precisely 10:30PM, a suitably swarthy seaman hoisted off the rope that had tethered us to land and without any fanfare other than our own, we slid silently out to the star covered sea. Never at a loss for fun, we popped the cork of champagne bottle #1 into the sea and bon-voyaged ourselves.

Shore leave the next day took us to Alesund. If you ever get to Alesund, you simply must eat in the Toldboden restaurant, conveniently located next to the port. The chef was a genius trained in the style of French haut cuisine; had I any Michelin stars in my pocket, I would have awarded him one.

Back on board, we chatted with fellow passengers who were taking the full eleven day round trip whereas we were going port-to-port, departing at Tromso to fly back to Oslo. Everyone agreed it was the most relaxing mode of travel we had ever experienced. Instead of traditional cruises with perky entertainment directors forcing fun, this was by default, forced relaxation. They have a library, a room for games (the kind in cardboard boxes) and a couple television sets discreetly placed in public areas.

True relaxation is a rare commodity, but I found it in Norway. Being away from entertainment and distractions of the contemporary sort causes people to resort to activities of yesteryear's crossings. When Lexie considered joining us on the trip, she was stressed and needed a get-a-way vacation. In answer to what on board activities were available, I replied that there was no beauty spa, shopping center, casino or swimming pool, to which she said she could not do 'nothing' for six days. After hearing that echo back to her brain, she jumped on board, so to speak.

As I imagine people did in earlier times, we spent our crossing meeting new people, reading, writing, resting, thinking or simply gazing at the scenery. Indeed, the further north we sailed, the more stunning the views. Through the panoramic window, we watched the world's slowest DVD player showing a non-stop 'film' about snow-covered mountains, glaciers, islands dotted with tiny villages and solitary lighthouses. It was like a travel video, but without a commentator, so we were left to our own imaginations to consider how life would be in such isolation. In the dimly lit observation lounges, everyone whispered; even the children were well behaved. Sometimes while contemplating the scenery and the lives of those in it, the barely discernable sway of the ship caused me to contemplate the occasional nap. I thought I would call this journal 'The Northern Nap.'

Up in the bridge, it was quiet as a church. The ship runs by computer most of the time, but they allowed a picture of me pretending to steer the wheel. The computer interested some of us, but I had other questions for the Security Officer: 'Have you seen Love Boat?' 'No,' he said, but he heard about it. Then he said that next year on board their newest ship, they would film a reality show for Norwegian television. That should prove interesting.

Then I asked if we could expect to see the Northern Lights this trip? Sure, he said, he saw them last night about 1:00 AM. Had I only known! I was awake and missed it. I guess looking out the porthole isn't good enough - you have to look higher up in the sky. Devastated, I arranged with him that if he sees them again, he is to call our cabins no matter the time, to which he agreed. Racing back to my cabin, I gathered my 'Northern Light clothes kit' to be ready in a jiffy, should that call come.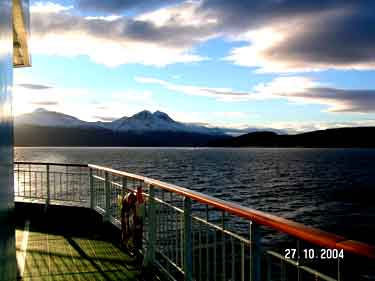 Alas, when I awoke the next morning there had been no Northern Lights wakeup call, but we had new interests today. Up at 6:00 AM, armed with a bottle of champagne and our cameras, we huddled in the panoramic lounge with a couple other sleepy souls obviously not from around here, to witness the crossing of the Artic Circle. Last night the crew organized a contest where passengers could guess the exact time we would make this momentous crossing; usually they cross between 6:00 AM and 8:30 AM. During our visit to the bridge, the Safety Officer said he would note the crossing by a single blast from the ship's horn. Seeing the Northern Lights is an iffy thing, but it is physically impossible to miss crossing the Artic Circle when one is sailing over it, so there we sat, on the edge of our chairs, champagne bottle poised. Two hours later, we were still there when they announced we had crossed the Artic Circle an hour earlier, at 07:11. My guess was off by three minutes, which was okay because the winner got a free swim to a nearby island.
After the crossing, we received an invitation from the Captain to the bridge for a sherry and a certificate to commemorate our Artic Circle crossing. Whispering out of the side of my mouth during the ceremony, I quizzed the Safety Officer who had promised to toot the horn. He said he didn't want to wake everyone up.

With only one more day and night on board, we roamed the ship and its decks taking pictures and staring into the icy splendor. The scenery got better and better. That night, we would have one last chance to see the Northern Lights.

If this were a fictional story, you would now be reading about how we received a Northern Lights wakeup call, jumped into our clothes, raced to the deck and stood dumbstruck, staring at the strange phenomenon in the sky. I would gush forth with feelings of being more at peace with the universe and other such nonsense.

In reality, we slept blissfully through the cloudy night, got up the next morning, Kathe took another hundred pictures and we all packed up for our departure at Tromso. Never have I had a more relaxing experience. Everyone agreed we wished we could have stayed longer…..Norway had not yet revealed all her secrets.

HELPFUL SOURCES:

Scandinavian Airlines http://www.flysas.com
Norway train travel http://www.nsb.no/internet/en
Foreign Exchange Converter http://www.oanda.com/convert/classic
Hurtigruten Cruise http://www.hurtigruten.com/index.asp