FOUR YEARS AGO, when I became eligible for Medicare, I was swamped by HMOs offering me the world to sign for their "free" policies instead of using Medicare. These for-profit programs were called Medicare+Choice.

"Why," I asked the smiling UnitedHealthcare salesman, "would anyone go with plain old Medicare?" UnitedHealthcare offered pharmaceuticals for a mere $15 co-pay, cheaper hospital stays, preventative care, worldwide emergency care, even something called Personalized Care Coordination.

"Above all," the salesman promised, "We won't let some anonymous Washington bureaucrat push you around."

It was all so reassuring. I signed up faster than an army physical.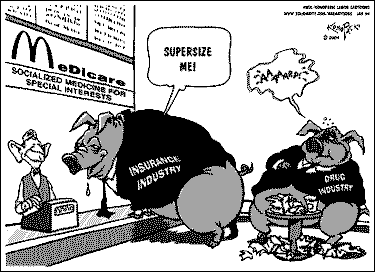 Eighteen months later — after I'd been under the personalized care of not only United Healthcare but also WellCare and Humana, I was out in the cold with only Medicare to turn to.
Each of the HMOs either raised its premiums so high I couldn't afford them or simply kicked me out, closing their programs without notice.

It's called bait and switch. And I fear that it's back again with a vengeance, this time under the name "Medicare Advantage."
Just today, the Associated Press quoted Health and Human Services Secretary Tommy Thompson saying that the extra money the Bush administration pays the Medicare Advantage managed care plans "shows an average 10-percent reduction in monthly premiums and co-payments."
Furthermore, Thompson claimed that the expanded coverage of drugs, dental, vision, and preventative services not included in traditional Medicare will save the average senior $23 a month.

Boy, that sounds familiar. For many of us, memories of privatized Medicare alternatives linger like the taste of spoiled milk.

To assure that the "free-market" proves superior to Medicare, last year's Medicare overhaul included extra payments to HMOs of about $46 billion over 10 years

While this is peanuts compared with the $400 billion windfall profits the bill gifted outright to the drug companies, still $46 billion is real money. It has to come from somewhere.
In their rush to prove private industry's HMOs superior to Medicare, it's a pretty good bet that Congress is stealing the dough from Medicare's beleaguered budget and your 17.5 percent Medicare premium increase.

Coincidentally I'm sure, payments to HMOs will increase 17 percent in 2005.

Yet the big question remains. Why not take advantage of the HMOs' windfall? Readers write me saying, "I may have to go with their doctors and hospitals, but the extra benefits are worth it."

Are they? I wonder.

What I know for sure is that Medicare works. I have yet to be turned down for a procedure or have my physician pushed around by that faceless Washington bureaucrat.

"Still," readers wonder, "HMOs and the private sector have to be more efficient than Big Government, don't they?"

Fact is, HMOs spend between 15 to 32 cents of every one of your dollars on overhead; Medicare spends only a penny.

Of course, under the new law, Medicare is denied the right to negotiate drug prices while HMOs are under no such restrictions. And Medicare must maintain quality of care; HMOs can change their benefits and/or the drugs they cover at any time any way they want.

And that's what worries me.

As it is to millions of older Americans, to me Medicare is a real lifeline. I depend on it, probably wouldn't be alive and well today without it.

I tell readers to do what they believe is best for them. But for me, I'm sticking with Medicare.

What's that old saying? Fool me once, shame on you. Fool me twice, shame on me.
(For the Sept. 2004 GAO report "Medicare Demonstration PPOs: Financial and Other Advantages for Plans, Few Advantages for Beneficiaries," click http://www.gao.gov/new.items/d04960.pdf)
SUDDENLY TRIVIA: According to Public Citizen, how much did the pharmaceutical industry, HMOs , and related interests spend to pass last years Medicare Bill? a) $55 million, b)$ 92 million, c) $141 million.
SUDDENLY TRIVIA ANSWER: c) The pharmaceutical industry, HMOs, and related interests spent a record $141 million employing 952 lobbyists — almost two for every lawmaker — to help ensure the Medicare law went its way. (That doesn't include the $10 million spent by AARP to help push the bill through.) See what your Congressman got paid by Big Pharma at http://www.opensecrets.org/races/index.asp