Kileen Prather
Travel Columnist
Journey with Kileen: Having been a Tour Manager for the last fourteen years and being in thirty-five to forty states a year, there are not too many places I haven't visited in the U.S. I love traveling and meeting so many wonderful people from all over. The purpose of this column is to share with you some of my favorite places and different means of travel whether you go by car, boat, train or motorcoach (bus).


WELCOME TO PARADISE - NASSAU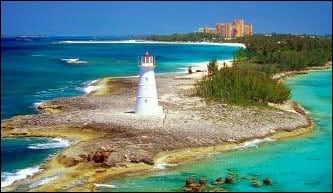 Well it's the Caribbean cruise season and one of my favorite places (although it is not located in the Caribbean but rather the Atlantic Ocean) is - Nassau.

You can stop on a cruise ship for a few hours or you can fly there and stay as long as you want. It is just a short 45 minute hop on an airplane from Miami. Although the English spoken is with a British accent and they drive on the left hand side of the street, American dollars are taken everywhere, which gives the feeling of being home.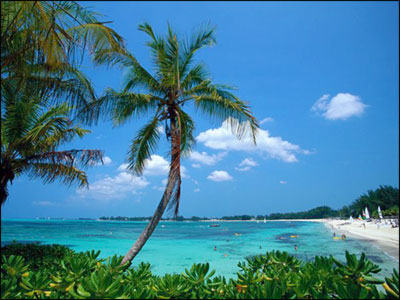 There are over seven hundred islands (but only twenty islands have measurable population) and two thousand cays that make up the Bahamas, with a population around three hundred thousand. However two hundred thousand people live on New Providence Island, of which Nassau is the capital and largest city. Nassau has had its up and downs over its history (Christopher Columbus landed there in 1492), but the island began to really prosper during prohibition. Resorts were built and the first casino opened in 1929. Pan Am airlines brought people over to drink and gamble. Along with gambling, banking facilities also began to flourish which helped the economic development of the island. In addition, Bahamians are prohibited from gambling by law which resulted in a lack of crime usually associated with gaming cities.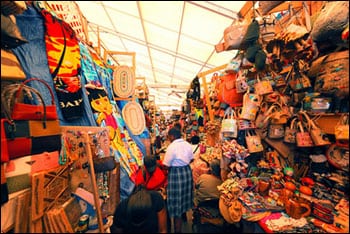 Downtown Nassau is a very colorful place. The buildings are painted yellow, pink, coral, teal and other rainbow colors. Shopping, including a fun straw market, is a major downtown activity. You can walk everywhere or hop on a jitney bus for $1.25 (exact change) to go out to Cable Beach.

I never get tired of looking at the turquoise colored waters next to the white sandy beaches as the jitneys drive along the waterfront. There are large hotels, a casino, and golf courses along the way to Cable Beach. Colorful flowers, like bougainvillea, oleander bushes and hibiscus are everywhere. Or maybe you want to take a water taxi from downtown to Paradise Island. That is, if you have decided not to stay on Paradise Island.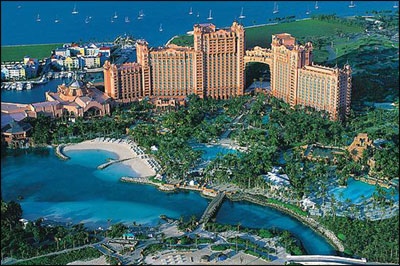 Atlantis on Paradise Island is an incredible resort. Whether you come by cruise ship or fly in and drive to Paradise Island, the first thing you see is a huge coral structure known as the Atlantis Resort. In the early nineties before the major construction, there were four or five hotels anywhere from three to ten stories tall sitting on the white sand beaches. The area was bustling, but in a more quiet and peaceful way. Now Atlantis has become a mega resort with almost a circus atmosphere. You canŐt even walk the beaches without either staying there or being on a ship shore excursion where you pay a fee to get in. You are allowed to walk into the hotel without paying.

At first glimpse, you see big buildings connected by what looks like a room at the top between them. This is called the Royal Towers and there are five towers. The "bridge suite" (about five thousand square feet) spans between the towers and costs about fifteen thousand a night. Rumor has it Michael Jackson spent a month there once.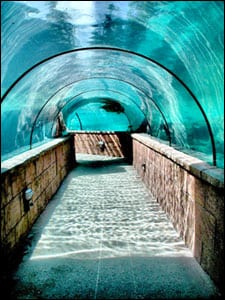 In the winter "the rich and famous" come to Paradise Island on their mega yachts. Some live on their boats and others rent rooms in the hotels or townhouses and gamble and play. That is why the resort contains an aquarium tube (where you see fish in their natural habitat), a water park, rock climbing wall, speedway, free theater with the latest movies, tennis courts, library, several nightclubs, live concerts, a comedy club, and several restaurants. The owners strive to keep the rich and famous entertained. And, of course, just enjoying the beach during the day is always an option.

Off season is October to Thanksgiving where some deals abound if you are not part of "the rich and famous".

Welcome to paradise!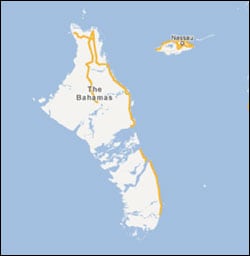 For the next few weeks I will be discussing some top vacation spots for you to consider. If you have any ideas that you would like me to include, send your thoughts to kileenp@gmail.com. They can be places, like national parks, or cities, or special attractions.


###
Editor's Note: To read more in depth about this area, check out Kileen's book "Journey Beckons". You can order through her website: www.kileenprather.com or at Amazon either in book format or the Kindle edition. Her latest, "Journey To Port" now also on Kindle.

See More Kileen Prather Travel Stories
FIND IT AT
SUDDENLY SENIOR!
---
---
SINCE 1999, AMERICA'S MOST TRUSTED SENIOR CITIZEN WEBSITE
---