Kileen Prather
Travel Columnist
Journey with Kileen: Having been a Tour Manager for the last fourteen years and being in thirty-five to forty states a year, there are not too many places I haven't visited in the U.S. I love traveling and meeting so many wonderful people from all over. The purpose of this column is to share with you some of my favorite places and different means of travel whether you go by car, boat, train or motorcoach (bus).
ALBUQUERQUE BALLON FIESTA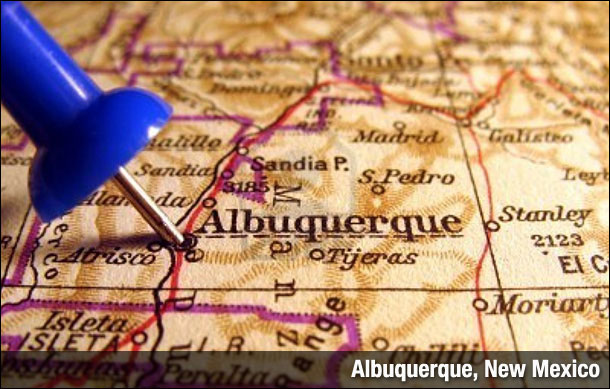 Each early October the skies around Albuquerque, New Mexico are painted with hundreds of balloons as they lift off from Fiesta Park. This is the world's largest hot-air balloon rally. It is an early start the morning of the Opening Ceremonies when you can go see the "mass ascension" of the many different shaped balloons as they lift off at sunrise. Plus you can wander the 80 acre launch field and even chat with some of the pilots before liftoff. The Fiesta began in 1972 with 13 balloons and now has more than 600.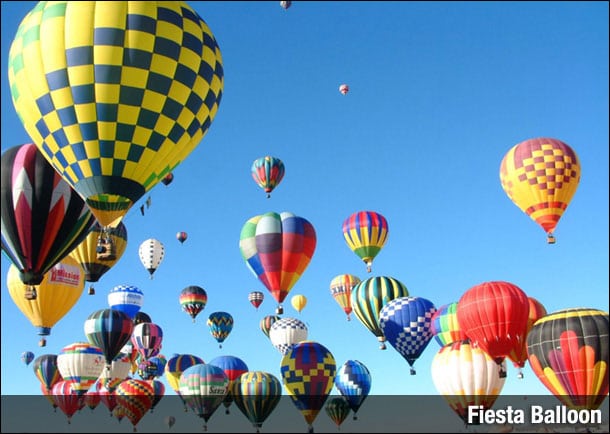 This is a trip to do as a tour if you are able to. You can go individually but there are so many people there (usually more than 80,000), the roads can become gridlock. So, it's better to be on a motor coach if you can. Plus after the "mass ascension", you can then participate in a city tour of Albuquerque with a local guide.

Albuquerque is the largest city in New Mexico located against the Sandia Mountains. The population is approximately 600.000 and it sits at 5,000 feet, just shy of a mile. 1/3rd of all New Mexicans live here. The University has 24,000 students and is famous for its geology, anthropology and metorite museums. Sandia National Labs employs over 7,000 and there are other research and development firms in the area. There is a mixture of Native American, Spanish and Anglo cultures and this is reflected in the city's architecture and art. It is real a fun place to visit with a laid back atmosphere.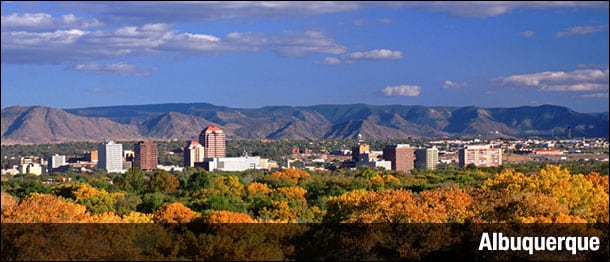 El Camino Real ("The Royal Road") ran from Mexico City all the way to Santa Fe about an hour north. Because the early explorers came through this area, Old Town, the heart of the early city is located here and is a great place to spend some time. Lots of shops and restaurants line the plaza and if you get here make sure you visit the San Felipe De Neri church built in 1706. It is amazing to think that there was a thriving community here before we even had fought the Revolutionary War!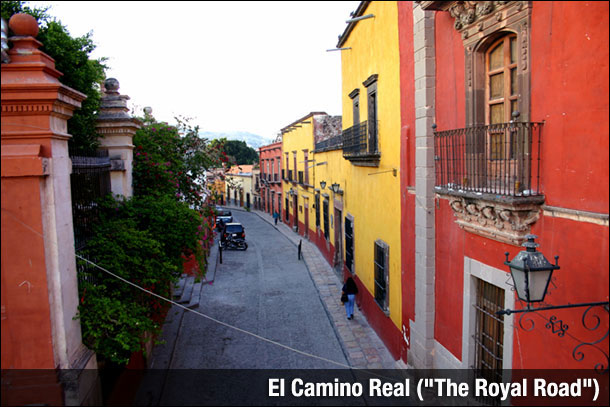 Another great side trip for getting "high," is the Sandia Peak Tram which at 2.7 miles long is known as the world's largest tramway. The tramway goes 10,378 feet up to the top of the Sandia Mountains. And, oh, what a terrific panoramic view of northern New Mexico! At the top you can hike or just enjoy a meal at the High Finance Restaurant and Tavern.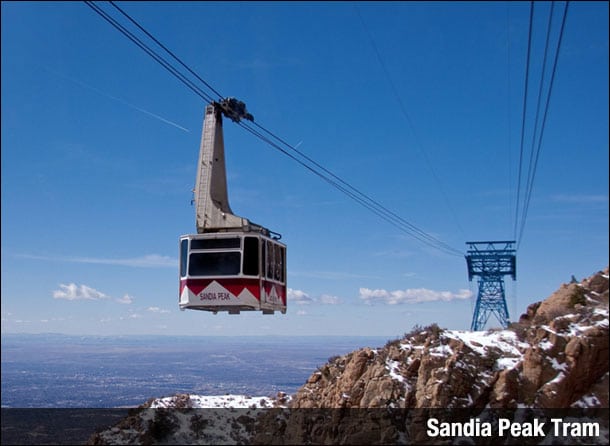 But the evening after the "mass ascension", get ready for a real treat... the Balloon Glow. Just before dusk, the burners of nearly 500 balloons are ignited and the night sky is filled with a kaleidoscope of brilliant colors. And, the evening is topped off with a wonderful fireworks display.

Some of the other things you can do while in the area is go to Bandelier National Monument which contains displays of the daily life of the Pueblo people and their traditions. Or a little further afield is White Sands National Monument in Alamogordo. The snow colored dues cover 275 square miles in the Chihuahua Desert. And some of the dunes rise up over 60 feet, and are constantly changing because of the winds blowing in the area. You can bike through the area, but even more fun is to take a dune buggy ride. I did this once and it was a real treat. The only thing I couldn't figure out was how the driver knew where he was and how he would get us back to the visitor center.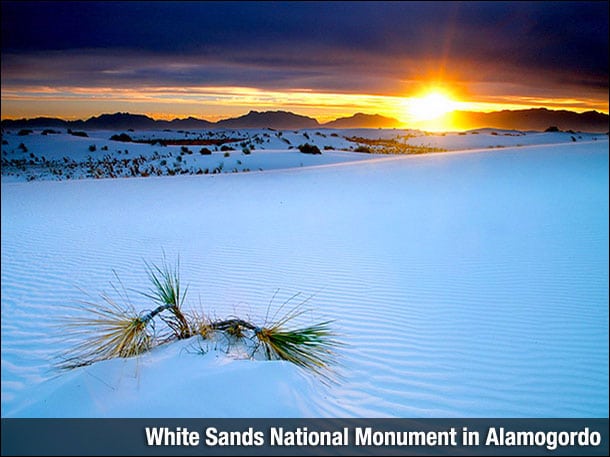 Finally, a "must" to do while here is a trip to Santa Fe, the highest capitol (in elevation) in the US-- 6,989 feet. It is only about 50 miles between Albuquerque and Santa Fe, but all uphill. The historic central plaza is a square in the city center. On the north side of the plaza sits the Palace of the Governors, the oldest continually occupied public building in the US, dating from 1610. Native American artisans from 41 tribes sit outside selling local crafts like turquoise and silver jewelry, paintings, sculptures, weavings and pottery. The architecture is the typical pueblo style you expect to see there and many rich and famous live here, which naturally pushes property values up. Also, a stop at the Loretto Chapel which contains a staircase that is famous for no visible support as well as many old churches are also worth a visit.


So many places to see and things to do in the Land of Enchantment, which is New Mexico. Why not start at Albuquerque?

If you have any ideas that you would like me to include, send your thoughts to kileenp@gmail.com. They can be places, like national parks, or cities, or special attractions.



###
Editor's Note: To read more in depth about this area, check out Kileen's book "Journey Beckons". You can order through her website: www.kileenprather.com or at Amazon either in book format or the Kindle edition. Her latest, "Journey To Port" now also on Kindle.

See More Kileen Prather Travel Stories
FIND IT AT
SUDDENLY SENIOR!
---
---
SINCE 1999, AMERICA'S MOST TRUSTED SENIOR CITIZEN WEBSITE
---