---
Some are even useful!
FREE SUDDENLY SENIOR DOWNLOADS
---
NOTE: Many of the files to be downloaded are in Adobe Acrobat form. To read them, you need the free Adobe Acrobat program, available here.
LOST OR STOLEN WALLET INVENTORY CHECKLIST — An excellent way to keep track of the contents of your wallet 108kb.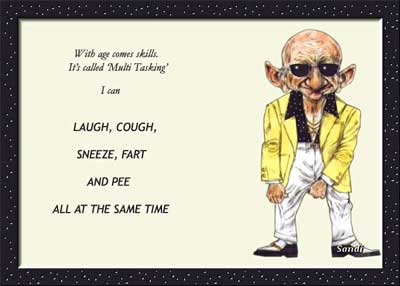 Old-timers
MULTI-TASKING
— A poster boasting that you (or the poster's recipient) can laugh, cough, sneeze, fart and pee, all at the same time. Ain't that great?
Click, download, and print "landscape" 64kb.
LIVING WILL
(and healthcare surrogate) FORM
Everyone should have a living will to make certain your wishes are fulfilled when you're incapacitated. This form, while compiled especially for Florida citizens, will at least make clear your wishes in other states. Very important! (For other sites with advance directive forms, go to Suddenly Senior's Links Page. 48kb
I'M SO OLD...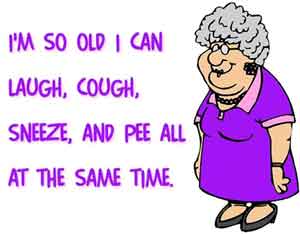 — A great and funny little gift for that senior in your life. Letter size, in PDF form. Click, download and print. 60kb
CAREGIVER'S BILL OF RIGHTS — The perfect gift for every overworked caregiver you know. So many never think of themselves. This gives them permission. Suitable for framing. 12kb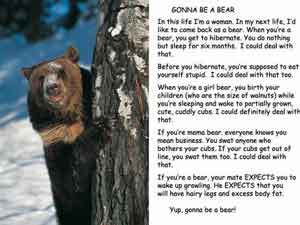 NEXT LIFE, I'M GONNA BE A BEAR — When you're a bear, you get to hibernate, before that you eat yourself stupid. You birth children while you sleep and your mate expects you to wake up growling with hairy legs and excess body fat. Ready for printing in PDF form. 136kb
PAYING FOR NATIONAL HEALTH INSURANCE—AND NOT GETTING IT — An excellent study by The People-to-People Health Foundation at Project HOPE proving that we're already paying for Universal Health Care. Just get the HMOs out of the way and everyone — including the 40 million who now can't afford insurance — could have great health care without the government paying another penny. 286kb
SENILITY PRAYER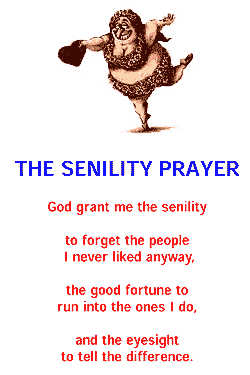 Very funny, full color, suitable for framing. 76kb
RETIREMENT POEM — Suitable for framing, this short, funny poem captures it all. Retirement? Who has time for it? 36kb
WHAT HAPPENS AT GRANDMA'S
STAYS AT GRANDMA'S — Good to have framed and on the wall when the grandkids come.
I'M RETIRED — A great little poster to let the world know, "I don't want to... I don't have to... I'm Retired!


|

Have some fun!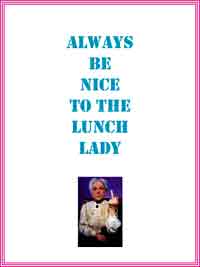 ALWAYS BE NICE TO THE LUNCH LADY — Belongs in every grandmother's home when the grand kids are about.
• 10 COMMANDMENTS OF SUCCESSFUL SELLING TO SENIORS — If you're in sales, don't think of selling to seniors without it. Suitable for framing. 16kb
FINANCIAL SEGMENTATION STUDY OF RETIRED SENIORS — "The New Retirement Comes in four Financial Flavors," by Fred Brock. 12kb
A PROFILE OF OLDER AMERICANS: 2004 — The latest government survey available. One of the most thorough looks at the post age-65ers in the US, by the Administration of Aging, U.S. Dept. of Health and Human Services. 332kb
---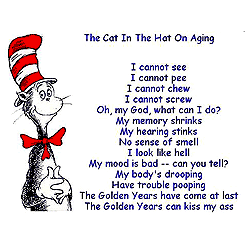 ON GROWING OLD
"The Cat In The Hat"
On Aging tells it like it is. Suitable for framing. 42kb
HOW SUDDENLY SENIOR
CAME TO BE
— A news release detailing how and why Frank Kaiser started Suddenly Senior, and what happened then. 92kbd