By Barbara Bowers




"Sit here, mama, you'll get a good view of the countryside."

Mama! Did this young stud muffin—the one who's ushering me to a seat at the front of the bus—just call me Mama?

Not even a week into my long-awaited, dream trip to Kenya, Africa and I'm unceremoniously catapulted into the geriatric crowd. The guy is certainly friendly enough so I can't believe he's intentionally insulting me; then again, I can't believe I'm taking a guided tour on a bus.

Travel by bus anywhere in Africa has a kamikaze stigma, especially in the minivan-like mutatus. Yesterday, I hopped a mutatu into Mombassa from the Indian Ocean-side resort where I'm staying, and the 30-minute, round-trip ride was, indeed, an adrenalin rush. On these car, bike, animal and people-infested urban streets, the life expectancy of bus and driver is measured in minutes.

In spite of the driver's death wish, I made it back to the hotel alive. Remarkably, I booked this little jaunt to Wasini Island after the Nyali Beach Hotel's concierge assured me the 100-mile trip south from Mombassa was on a bus, oh, so much safer than a mutatu. A bigger bus; at least 20 people were going to take it and, eventually, a dhow out to Kenya's first marine sanctuary; and most of the road is paved. Most of it.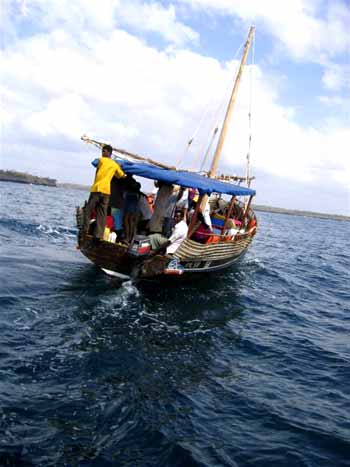 "Get a mask, snorkel and fins from the dive shop. Be in the lobby at 5 a.m.," she said cheerfully in English. "Breakfast and lunch included."

Somehow, she forgot the part about the two guides in charge of this roady—Ramadhani and Mohammed—who seem as much out of control as the bus driver.
A dhow filled with tourists at the Wasini Island Sanctuary in Kenya
Sitting directly behind the three men having a gay old time bantering among themselves in Swahili, I note that I'm the only U.S. representative, and I, alone, bump up the mean age of the multi-lingual group to about 40. Mostly, I get a good view of the countryside that whizzes by faster than a speeding bullet. Of course, the view is frequently impeded with clouds of dust, blown from the potholes we leap with Evil Kinieval daring.

The rugged, 2.5 hour drive is worth it, though: Serenity prevails when we climb aboard an antique dhow, sail around Wasini Island with dozens of frisky dolphin and splash into sanctuary salt water so pure it could be bottled.

Across the turquoise bay I see Tanzania's mountains. There, the border is the only one in all of Africa that Kenyan's may cross without passports.

"It's always safe here," says Mohammed, who stops singing the popular Swahili song, Jambo Bwana, long enough to explain: "The Digo tribe has lived in the area for centuries on both sides of the border, and they are a peace-loving people."

When KTY Summer, a British rock star, chimes in with her rendition of We Are Family, I think about the bad tourism wrap Africa gets in the USA. My own family, for instance, insisted that I make out my last will and testament before I booked airfare to Kenya.

That afternoon, the "Swahili Buffet" served at Wasini Mpunguii Lodge starts with lobster claws and ends with whole red snappers. In between, a feast of homemade flat-bread is topped with everything from seaweed salsa to spicy chilies.

According to Mohammed, 800 people live on the island; they're all Muslims, all related, and all work in some capacity for Wasini's only business: the restaurant and lodge.

Feeling fat and sassy, traveling in good company and walking back to the bus parked on the mainland, Ramadhani asks, "Do you want to go to the slave cave?"

"Sure. But how do you know it's a slave cave?" I ask.

"I'm Kenyan. I've organized this trip since 1998," he replies rather indignantly.

Recently opened and added to Ramadhani's tour, research dates the cave back to the 1600s when it was a holdover in the slave route to Dar es Salaam. Because no one has any money left after shopping and tipping the crew, Ramadhani pays the $1 entrance fee for all of us. I am not emotionally prepared, though, to end this wonderful day with the underground horror of brackish well water from which slaves were forced to drink. Truly moving are the shackles and manacles still embedded in the coral walls.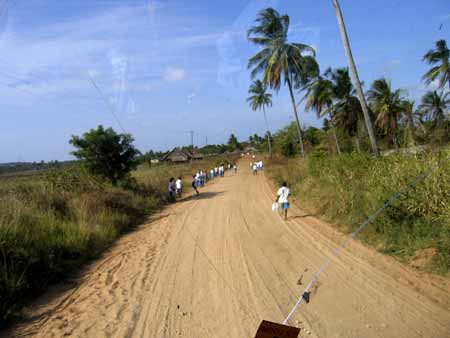 I want to cry, and I really don't look forward to the drive back to Mombassa.
From the front of the tour bus, a group of Kenya school kids head home in the countryside.
But when Ramadhani escorts me to the front of the bus, this time to the large front seat next to him with the bus's wide-screen view of the countryside, I smile every time he calls me "mama."
Book the Wasini Island trip through most Mombassa hotels, or call Ramadhani Kisua: 073-438-2560. Price is negotiable, but usually around $100 US.
Copyright © 2006, Barbara Bowers

Barbara Bowers is a freelance writer and photojournalist. See Barbara's site at http://www.bbowers.com