The last time I did this exercise, here's what my heart brought forth...
By Steve Roberts
CoolMindWarmHeart.com
When it comes to Christmas decorations, I love everything. Show me a lawn full of plastic pink flamingos pulling a tattooed Santa in a bathtub, the baby Jesus sitting on Santa's head - and I'll delight in the infinite ways the heart reveals its never-ending celebration of love.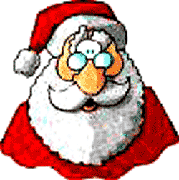 Then again, I've yet to meet a place where the divine is not. My bride and I have renewed our marriage vows a few times over the years, once with the help of a sparkly old monk who was fond of saying, "When we feel distant from God, guess who moved."

While I rejoice in those who bespangle every square centimeter of even their bird house with gewgaws and whatnot, my all-time favorite holiday flourish was on a grungy monstrosity of a manufacturing complex I spotted at dusk one Christmas eve while driving along the New York State Thruway near Syracuse.

I don't know what they did there, but they did a lot of it because the employee parking area, its yuletide emptiness accentuated by the blaze of industrial streetlamps, easily held several hundred vehicles during regular working hours.

The building itself, all but lightless, floated away from the parking lot and into the darkness like a mothballed oil tanker. At least the stable where Jesus was born, so the story goes, included the softness of straw, the warmth of animals, and of course loving parents. The facility I glimpsed at 70 mph 2000 years later didn't emote a whisper of human tenderness-except above the metal door through which several generations of tradesmen had surely passed to and from jobs that left them tired and dirty when they punched out at the end of their shift.
It was there, like a firefly in a coal mine, that the company's single external display of seasonal hospitality glowed: the shortest string of lights I had ever seen-a mere five bulbs. I was so struck that I made note of them: red, yellow, green, white, blue. That was it. Nothing else. And yet, in context, those five lights said as much about the inherent passion of the human heart to express joy as any candle-lit cathedral.

In the spirit of those lights I would like to pass along one of the best gifts I've ever received. It's a little strange, but it can enrich your life.

Using no more than a single page, double spaced, take some time and enumerate what for you comes under the heading "What I Know to be True." You'll be giving yourself that exquisite present of celebrating your essence.

The last time I did this exercise, here's what my heart brought forth:
Steve Roberts is the author of Cool Mind Warm Heart, a collection of essays, stories, and photographs of stone sculptures he builds on his Vermont farm. Steve, his book, and other treats can be found on the web at CoolMindWarmHeart.com