C
LEARWATER, DEC. 2004
— Five years ago I started writing my truth about what it is like to be a geezer - senior moments, ear hairs, and all. n senior time, that was yesterday. You know what I mean.
When I started, Suddenly Senior was the
only job
I could find where I didn't have to lie about my age.
Soon I realized that I was feeding a hunger in these senior ranks, a yearning for someone to echo our deepest feelings, hopes, and fears - somebody reporting from the front lines the profound experience of becoming a geezer.
And enjoying it.
From the beginning,
you wrote to me
. About your difficulty affording medicine. About your government ignoring you. About all the bashes, bruises, and slights inherent in getting older in America.
Along the way, I've tried to right some of those wrongs, to help heal at least a few of the wounds.
This year, we heaped scorn and scold on
Big Pharma
,
Pfizer
, and
the FDA
. We learned where to
get drugs cheap
, even free. We learned what to do about the new
Medicare Drug Discount Cards
, and what not to do when
buying drugs from Canada
and when considering the new
Medicare Advantage Program
.
Of course, the year had its lighter moments. Follically challenged readers learned they might need a license for their
comb-overs
. We all learned that we're
never, ever old enough
to know better.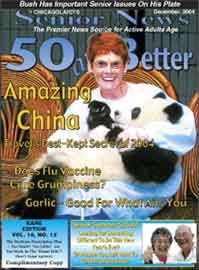 We traveled. To China, the safest, smilingest, most extraordinary destination today. It's a place where folks actually revere seniors.

The year 2004 was lasting: The last Oldsmobile. The last word about talking to ourselves. The key to lasting sex (at our age?). We never did learn, however, the secret to bouncing the last check we write before we die.

We grew close. Hundreds of you wrote concerned when my wife, Carolyn, was bitten at work by a brown recluse spider. Later, when she was fired, we both enjoyed all the ideas readers suggested on what she could do next.

It still amazes me that so many over age 50 identify fiercely with Suddenly Senior. Whatever it is that resonates, I promise to continue.

We now have 36 newspapers syndicating the column - ranging in circulation from 12,000 to 355,000 - from the Florida Keys to Vancouver, Washington. Each month, the Suddenly Senior site gets about two million hits from some 107 countries.

It adds up to about l.5 million Suddenly Senior readers every month.

That Suddenly Senior is so popular is because readers like you continue to spread the word that, available for the asking, there's now a light, knowing column reporting with love, hope, and humor from the front lines of geezerdom.

Many of you tell your friends, too, about this unique Website that's "a place for everyone who's become senior before their time." It provides a smorgasbord of senior jokes, cartoons, stories, trivia, nostalgia, advice, philosophy and, hopefully, truth - everything for the senior funny bone and the curious senior mind.

There are now well over 1,200 pages at that site, many written or suggested by readers like you. If you haven't visited for a while, you're in for a treat.

A couple of months ago Carolyn joined me to work on Suddenly Senior. She's now compiling the Week's Best Jokes from all those you send us each week, and helping me out in many other ways.

Thank you! Thank you! Thank you!

Please know and remember that Suddenly Senior is for you, the intelligent reader over 50 who feels way too young to be old. If you have any column suggestions, gripes - whatever - please pass them on to me at frank@suddenlysenior.com. Or to Carolyn at carolyn@suddenlysenior.com. Especially the gripes!

I promise we'll get back to you personally.

Thank you, thank you, thank you for your support of Suddenly Senior in 2004, for your letters and e-mails, for your pats on the back, for your thoughtful critiques.
It's what keeps us going.

Allow me to extend a very special thanks to my friend Terry Wollin for her huge heart and excellent editing skills. When you see luster in my columns, it is Terry shining through.

May all the miracles and joys of this Season be yours. You have Carolyn's and my fondest wishes for a healthy and happy 2005.

Love and hugs to you all,
P.S. If your annual income is below $12,569 ($16,862 for couples) you have only 15 days to sign an approved Medicare drug discount card and receive $600 in free drugs, (and another $600 worth as of January 1, 2005). It's the only good thing about the new Medicare Drug Bill. Take advantage of it.

Copyright © 2004 - Frank Kaiser

Give that senior in your life a great book.
There are many at Suddenly Senior, recommended by Frank and by Suddenly Senior readers around the world. AND WHEN YOU BUY THEM HERE,
YOU USUALLY GET A DISCOUNT

---

By the old girl herself! A ditty about an old lady, fed up with dumb elves, lousy toys, and a husband who snores, farts, and is lazy 364 days a year. Let's hear it for retirement.

---

Hundreds of years of wear and tear have left Santa with a sore back and bunions. As it is for the rest of us, it's time Santa retires. Next year, Christmas is up to you.

---

When you've lived as long as most seniors, you've got everything — and then some. Here are some helpful hints for gifts seniors will never buy for themselves.

---

Winner of Louisville Sentinel contest to find out who had the wildest Christmas dinner.

---

A post-9/11 twist on "The Night Before Christmas."

---

Santa's got a new contract. From now on, he will serve only Great Lakes' states and will take longer breaks for milk and cookies. Who will take care of all the rest of the boys and girls? Bubba Claus!

---

Writer and educator, MaryJo Thomas, provides 38 ways to make 2005 your best year ever. Read 'em and see.
---
RECENT COLUMNS
THROUGH A REVOLVING DOOR, SMILING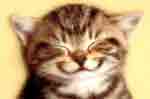 A short, cautionary tale about how fat cats make millions playing the Washington Game to the detriment of seniors and our country. Tommy Thompson on the carpet. CLICK HERE FOR FULL STORY!
AMAZING CHINA:
TRAVEL'S BEST-KEPT SECRET OF 2004
Today's China is the safest, friendliest, and most fascinating country you can visit this year. Frank and Carolyn just returned from what Frank calls their "Spoiled Rotten in China" tour. http://www.suddenlysenior.com/china1.html

---
PLANNING A VACATION?
Suddenly Senior's Travel Page has money-saving information you can use whether you're traveling 10 or 10,000 miles.
---
See a list and summaries of Suddenly Senior columns.
Click http://www.suddenlysenior.com/columnlist.html
---
4 BRAND NEW FUNNY PAGES
OF GREAT SENIOR JOKES!
SEXIEST SENIOR JOKES, CORNIEST SENIOR JOKES
http://www.suddenlysenior.com/seniorjokebook.html

http://www.suddenlysenior.com/seniorjokebook2.html

http://www.suddenlysenior.com/seniorjokebook3.html

http://www.suddenlysenior.com/seniorjokes.html
---